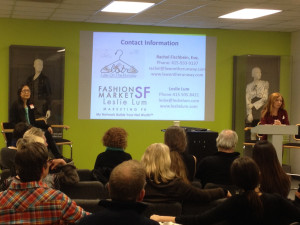 Event: PeopleWearSF's First Educational Event of the Year!
The Law on the Runway: The Legal Issues of Online Marketing
Speaker: Leslie Lum
Date: Wed February 4, 2015
Time: 6:00 pm – 8:00 pm
Location: FIDM 55 Stockton St, SF.
The Fashion Institute of Design and Merchandising
Website: peoplewearsf.org/2015/02/01/marketing-strategies-expertise
Event Description:
Join us for a special event on best practices for interacting online with current customers and new customers. Leslie Lum, PR and marketing specialist, will inspire you with techniques for digital marketing, including social media, blogging, email marketing, and maintaining relationships with your professional network. Rachel Fischbein, Esq. of Law On The Runway will present on the legal issues of digital marketing, including regulations of native advertising, SPAM laws, required third-party blogger endorsement disclosures, sweepstakes rules, and privacy policies. This event will leave you with an action plan for improving your digital image, and the resources you'll need to implement your marketing goals.
The post PeopleWearSF's First Educational Event of the Year! appeared first on LESLIE LUM.